GNM Hough Inc: Electronic Access Control, Video Surveillance, Intrusion Detection Systems in Davie, South Florida and surrounding areas.
GNM Hough specializes in the installation and service of electronic access control, video surveillance, and intrusion detection systems for commercial customers. We work with quality manufacturers to deliver advanced access control system solutions. Some solutions may be simple key pads or single-door locks, while others are database-driven enterprise systems controlling building access across a global network of sites. We can integrate biometrics, smart cards and readers, and radio frequency identification devices into your existing systems. We can incorporate our equipment with your video surveillance management systems. GNM Hough helps ensure your employees have access to their assigned areas at designated times, protecting them while securing your corporate information and property.
GNM Hough provides state of the art hardware, software, and technologies to deliver integrated access control systems. We design, sell, install, service, and support innovative access control systems ranging from small PC-based solutions to web-enabled multi-site enterprise solutions.
We provide video surveillance products, services, and technologies to create and deploy comprehensive electronic video security systems to enhance safety, protect property and assets, and deter destructive behavior. We customize your system, combining IP, analog, and digital video technologies to provide you a total solution at competitive rates to fit your budget. Additionally, camera technology now enables the recording of high-quality images in virtually any type of lighting, even night conditions with no direct lighting source. We can work with you to design a system to monitor and record activity at a facility at all hours and under various conditions.
GNM Hough is a leader in custom intrusion detection solutions for commercial use. We supply cutting edge alarm products and technology, and we install, service, support, test, and monitor alarm systems. Using alarm and intrusion detection systems help to provide a more secure business environment.
Call us today for a consultation with one of our certified, industry-trained professionals. We'll provide you with a competitively priced solution, securing your property and protecting your people.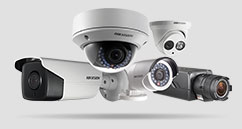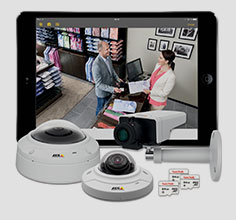 We are an "Authorized Dealer" for DSX Access Systems
A Gold Dealer Partner for HIKVision
Exacq Certified Reseller
Certified Axis Partner.
We are FASA/BASA Certified
(Fire Alarm/Burglar Alarm System Agents)